Criminal Defense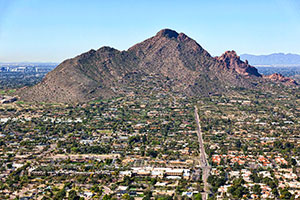 Like all major U.S. cities, Phoenix was notorious for crime in the 1970s. In fact, a very famous Supreme Court case, Miranda v. Arizona, was decided during this time, which led to the nation-wide practice of issuing a Miranda warning- an important legal protection for defendants. Due to Phoenix's quick growth, one of the major criminal activities was known as land fraud, where one party uses deceit in order to gain advantage from the property contract such as misrepresenting the total value of the property or concealing defects. In fact, Phoenix began to be known as the Tainted Desert.
In addition to the prevalence of land fraud, Phoenix was ranked first in the nation for vehicle thefts in 2001 and 2002 with over 22,000 cars stolen each year. Since then, it has declined each year and now Phoenix ranks 70 th.
Most recently, due to its proximity to the Mexican border, Phoenix has been troubled by drug trafficking and kidnapping. Since 2005, Phoenix received the reputation as America's kidnapping capital. With regards to drug trafficking, about half of all marijuana seized along the U.S.-Mexican border is seized along the state's 370-mile border.
In 2018, the Phoenix Police Department reported the following crimes: 137 murders, 1,086 rapes, 3,112 robberies, 7,780 aggravated assaults, 10,479 burglaries, 39,438 theft-larcenies, and 7,815 auto thefts. (See UCR 2010-2018.)
It is important to note that the numbers listed above are reported complaints, not convictions, where the accused pleads or is found guilty. In other words, just because you are accused of committing a crime, you may not be ultimately convicted. How can you be apart of the group of defendants who does not receive a conviction? You need an attorney from Lavy Law knows how to get your case dismissed or win you a not guilty verdict due to its experience as a prosecutor, court attorney, counselor and trial attorney.
Lavy law has experience in all of the major categories of crimes committed in Phoenix due to its background working as a prosecutor in five counties. The crimes that we defend clients against include:
Domestic Violence
Driving Under the Influence
Theft Crimes
Drug Crimes
Burglary
Probation Violation & Early Termination
Illegal Search and Seizure
Assault
Child Abuse
Criminal Threats
Elder Abuse
Expungements
Felonies
Fraud
Juvenile Defense
Misdemeanors
Murder
Public Intoxication
Sex Offenses
Traffic Violations
Trespass
Vandalism
Additionally, Lavy Law can help you even if you already lost in criminal court and have a conviction. This service is known as Appeals. Lavy law will ask a higher court with greater authority to review the decision by the lower court and point out how the judge incorrectly applied the law, the procedural issue, or incompetence by your prior attorney.
We encourage you to read our Recent Cases to see that we have won a case just like your own.