Brooklyn
Brooklyn- Immigration Law & Criminal Defense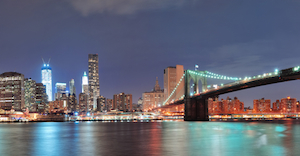 Brooklyn is an extremely ethnically-diverse borough. Of the immigrants who came over poor, many are living a higher standard of living than in their home countries. With gentrification, many of Brooklyn's neighborhoods are becoming increasingly mixed. Yet, there are still dozens of distinct neighborhoods that each immigrant population can be associated with.
Brooklyn is about 23% Jewish; Orthodox Jews and Hasidic Jews can be found in Borough Park, Williamsburg, Flatbush, and Crown Heights. A large African American community lives in Bedford-Stuyvesant ("Bed-Stuy"), Brownsville East New York and Coney Island. Brooklyn is also home to many Russians and Ukrainians who live in Brighton Beach and Sheepshead Bay. Finally, Bushwick is the largest hub for the Hispanic community of Brooklyn.
Are you an immigrant in Brooklyn that is served by Lavy Law? Absolutely, Lavy Law reaches each and every one of the immigrant groups through this array services :
Asylum, Withholding of Removal, and relief under the Convention Against Torture
Deportation defense
Immigration detention
Green card applications
Cleaning records of criminal offenses
Temporary visas
Becoming U.S. citizen
Immigration based on family
Safe pleas to avoid removal
Appeals
Investigation
According to an FBI crime data, your chance of becoming a victim of crime in Brooklyn is about 1 in 44. The violent crime rate is one of the highest in the nation, across all sizes of communities. The rate of property crime, however, is about average for all cities and towns in America. In 2013, police filed complaints in Brooklyn of 128 murders, 416 rapes, 2,621 + 3,073 robberies, 2,496 + 3,285 felony assaults, 4,920 burglaries, 10,673 grand larcenies, and 2,149 auto thefts, for a total of 29,761 criminal complaints (See CompStat, Vol. 20, No. 44.)
Don't worry, the statistics listed above are merely complaints, not convictions, where the accused found guilty or pleads to the charges. For example, the actual felony rate of convictions in Brooklyn for 2012 is only 58%. (See NY Times, 8/30/13.) If you want to be apart of the 42% who does not receive a conviction, then you need an attorney from Lavy Law knows how to get your case dismissed or win you a not guilty verdict due to its background as a former prosecutor, court attorney, trial attorney, and counselor .
Brooklyn's conviction rate is noticeably lower than the other boroughs in New York City such as Queens and Manhattan, arguably due to Brooklyn's diversion programs. Diversion means that the accused is able to substitute jail time with a treatment program. The District Attorney of Brooklyn says that he favors dismissing charges or reducing felony to misdemeanor charges in some cases to avoid giving low-level offenders criminal records that could prevent them from getting jobs. He claims that he has diverted thousands, when in reality, City statistics show that Brooklyn sent only 565 new felony and misdemeanor cases to drug treatment courts last year. Yet, this is still far more than any other borough.
Brooklyn's policy of diversion, however, is no guarantee that your case will also be diverted. A lot of factors go into play to determine whether you deserve treatment over jail. Are you a low-level offender who wants to guarantee your case is diverted? If so, you need an attorney from Lavy Law who knows how to properly convey to the prosecutor your eligibility, the strengths in your case, and why you deserve treatment over prison.
Lavy Law has experience in Brooklyn's major crimes due to its background working as a prosecutor in California. The crimes that the firm defends clients against include:
DV- domestic violence
Larceny or theft
Burglary- breaking in and entering your home
Driving under the influence of drugs and/or alcohol
Drug offenses
Probation violation
Early termination of probation
Expunging your record
Assault
Abuse – child and sexual
Unlawful search/seizure
Criminal threats
Elder abuse
Juvenile defense
Felonies
Fraud
Sex offenses
Misdemeanors
Murder
Trespass
Intoxication in public
Vandalism
Traffic
Do you already have a conviction? Lavy Law can help you even if you already lost in criminal court through Appeals. Lavy Law will ask a court of higher authority to review the decision by the criminal court and point out how the judge incorrectly applied the law, the procedural issue, or incompetence by your prior attorney.
We encourage you to read our Recent Cases to see that we have won a case just like your own.