Manhattan
Immigration & Criminal Defense in Manhattan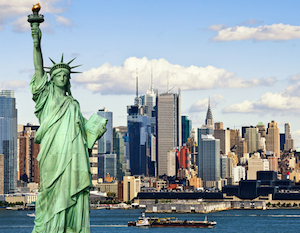 What is one of the first images that comes to your mind when you think of Manhattan? One image might be the statute of liberty. She stands proud on Ellis Island, serving as a reminder that Manhattan was a floodgate for European immigrants from the early 19th century until the middle 20 th century. Over 100 Americans today can trace their ancestry to the immigrants who first arrived in America through Ellis Island.
Today, New York State is still one of the leading destinations for international immigration and has the second largest immigrant population in the United States. The immigrant population in Manhattan is very diverse: 47.6% White, 25.8% Hispanic, 12.9% Black, 11.8% Asian, and 3.1% two or more races. Are you among the group of immigrants that Lavy Law serves? Yes, Lavy Law caters to each and every one of these immigrant populations by providing a wide array of immigration services, including:
Asylum & refugee status
Deportation & removal defense
Immigration detention & bond hearings
Family based immigration
Green card applications
Citizenship & naturalization
Temporary visas
Appeals
Safe pleas to avoid removal
Cleaning criminal records
Written reports for immigration courts
Investigation
Like all major U.S. cities, Manhattan was notorious for graffiti and crime in the 1970s. But, with the rebirth of Wall Street, the crime rates dropped drastically in the 1990s - murder rates plummeted and drug-related violence was under greater control. In 2013, police filed complaints in New York City of 30 murders, 251 rapes, 2,796 robberies, 2,833 felony assaults, 2,450 burglaries, 13,895 grand larcenies, and 668 auto thefts, for a total of 22,923 criminal complaints (See CompStat, Vol. 20, No. 44.)
It is important to note that the numbers listed above are merely complaints, not convictions, where the accused pleads or is found guilty. For example, the actual felony rate of convictions in Manhattan for 2012 is only 69%. (See NY Times, 8/30/13.) How can you be apart of the 31% who does not receive a conviction? You need an attorney from Lavy Law knows how to get your case dismissed or win you a not guilty verdict due to its experience as a prosecutor, court attorney, counselor and trial attorney.
Lavy Law has experience in all of the major categories of crimes committed in Manhattan due to its background working as a prosecutor in five counties including: San Francisco, Contra Costa, Marin, Stanislaus and Santa Clara. The crimes that we defend clients against include:
Domestic Violence
Driving Under the Influence
Theft Crimes
Drug Crimes
Burglary
Probation Violation & Early Termination
Illegal Search and Seizure
Assault
Child Abuse
Criminal Threats
Elder Abuse
Expungements
Felonies
Fraud
Juvenile Defense
Misdemeanors
Murder
Public Intoxication
Sex Offenses
Traffic Violations
Trespass
Vandalism
Additionally, Lavy Law can help you even if you already lost in criminal court and have a conviction. This service is known as Appeals. Lavy Law will ask a higher court with greater authority to review the decision by the lower court and point out how the judge incorrectly applied the law, the procedural issue, or incompetence by your prior attorney.
We encourage you to read our Recent Cases to see that we have won a case just like your own.